Phosphatidylinositol phosphates (PIPs) are more than just membrane components. They are vital signaling molecules within the cell that participate in a variety of biological processes ranging from membrane trafficking, inflammation, and cell death. 
Echelon Biosciences' PIP Mass Assays offer researchers a comprehensive selection of ELISA based assays for the measurement of PIP levels from biological samples.
Our PIP Mass Assays offer a competitve assay format sensitive to 1 pmol of lipid for the major phosphoinositide species. No metabolic labeling  is required and the assays are adaptable to multiple cell types.
Each assay has built-in standards for quantification and 24-32 samples can be analyzed in triplicate or duplicate. Typical assay times are less than 5 hours and the readouts use a standard 450 nm wavelength for quantification.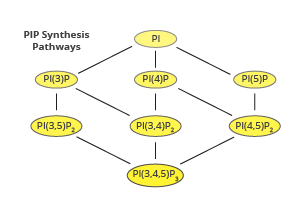 The production of PIP3 via PI3-K is important in multiple cell signaling pathways. Typical experiments to measure this activity involve the use of radioactive labeling followed by chromatography. The assay plate method developed by Echelon Biosciences allows the user to determine PI3-K activity by measuring the amount of PIP3 extracted from cells by means of standard ELISA format, eliminating the need for radioactivity, and thin layer chromatography.
In general, our competitive ELISA's are designed for the detection of a specific lipid. In these assays, the lipid is coated onto a multi-well plate. The lipid containing samples are then preincubated with a detection protein that is specific for the lipid you want to detect. The lipid containing sample and detection protein mixture are then transferred to the lipid coated plate. The detection protein and the lipid containing sample will then incubate on the lipid coated plate. During this time, the lipid in the sample will compete with the coated lipid for binding by the detection protein. Learn more on our blog.