Despite being initially characterized as cellular garbage, extracellular vesicles (EVs) have been observed in nearly all biologic fluids and tissues and have rapidly gained scientific attention due to their ability to ferry protein and nucleic acid cargo between cells. EVs present a breadth of possibilities for both the development of clinical diagnostics and for EV-based drug and therapeutic delivery.
Echelon Biosciences' ExoClean and ExoTracker kits offer researchers a simple system for labeling and purifying EVs in a time and cost-effective manner.
No ultracentrifugation or specialized equipment is required with our kits. Membrane and RNA specific labels allow for labeling EV cargo in standard green and red wavelengths and EVs can be purified in less than 2 hours.
Our kits have been validated with cell culture and tissue samples and contain reagents for 20 samples. Labeling, purification, and treatments can be performed on the same day. The final, purified samples are amenable for multiple downstream analyses.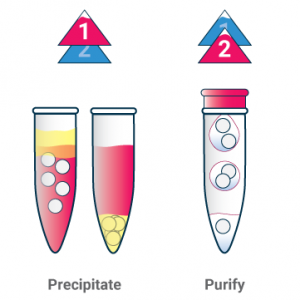 The ExoClean system also allows for rapid downstream analysis of the size and integrity of EVs. Ultracentrifugation and precipitation techniques alone can lead to damaged EVs and contaminating protein aggregates that can obscure nanoparticle tracking analysis (NTA). ExoClean alleviates this concern and is capable of providing EV samples that are largely uniform in size.
The three most common methods for isolating and purifying EVs are ultracentrifugation, size exclusion chromatography (SEC), and precipitation. Each of these methods on their own has limitations. Ultracentrifugation can be highly variable across experiments while SEC may retain some smaller vesicles of interest. Likewise, precipitation may have high yields but typically has a high amount of background proteins from the sample as well. However, pairing these methods together can often provide cleaner, more reliable results. Read more at our blog ⇒
The three most common methods for isolating and purifying EVs are ultracentrifugation, size exclusion chromatography (SEC), and precipitation. Each of these methods on their own has limitations. Ultracentrifugation can be highly variable across experiments while SEC may retain some smaller vesicles of interest. Likewise, precipitation may have high yields but typically has a high amount of background proteins from the sample as well. However, pairing these methods together can often provide cleaner, more reliable results. Read more at our blog ⇓